With summer just weeks away, heat will become a familiar friend and foe for vacationers. But when summer amenities are planned just right, the heat can feel luxurious and relaxing and provide a profitable long-term investment.
According to Realtor.com, grill areas and pools can increase home values and summer rental listing price, even though they may also bump up landlord costs for insurance and maintenance.
And in the luxury summer rental markets, requested amenities have moved beyond the material.
On the Jersey Shore, a popular summer rental market just an hour's drive south of New York City, where the daily price for short-term summer rentals shot up 50% last year, real estate agents now provide amenities like an Airbnb Luxe to entertain wealthy families all summer long.
In Spring Lake, New Jersey, a small town along the Atlantic, realtors' roles have evolved beyond helping landlords prepare properties and renters find a home.
"When you get into high-end rentals for $50-$60K a month, like you see in the Hamptons and Bayhead, those rentals will offer third-party services. A personal chef will come in and cook a dinner or a masseuse will come by," says  sales associate Susan Miller of Diane Turton Real Estate. "And the realtors provide the function and support if they want a surf lesson, a boat rental, or to go fishing. Those are the tools that we provide them."
All great things to keep in mind when planning your summer vacation. So why not indulge? Here are our top recommendations for summer amenities.
Summer Kitchen & Grilling Area 
A summer kitchen and grilling area allows for al fresco dining at its best. The most dialed in areas make the art of cooking more social, with ample seating (think clusters of chairs and tables), a cabana, a bar with stools and a lighting and sound system. These days, if permitted, a fire pit is a year-round amenity to bring people together and end the evening around the fire.
When it comes to an outdoor kitchen area, landscape architect Jeff Keiter advises prioritizing access to your house.
"I think a really important thing is circulation in and out of the house. You are setting up to cook and eat outside but ultimately you don't live outside, so those planning connections back to your interior are critical," he says. "The other thing to keep in mind is your finishes. It's easy enough to shop with a filter for outdoor sink, outdoor appliance, outdoor everything, but making sure they are UV resistant is a big thing. It's kind of a no brainer but it's also super important. Also shade. You need to be aware of structuring your shade so that you can cook and eat but if you're grilling big that it's compatible, so it doesn't get smokey."
Indoor Screened-Porch Dining Room 
In a climate where pesky mosquitoes never give up and the humidity feels heavy well into the early evening, a screened porch with a dining table can prolong the day outside through the bug-free comfort of a protected porch. Great for experiencing summer storms and the sounds of crickets and frogs, screened porches are simple luxuries that make the difference.
Edible Rooftop Garden for Happy-Hour Sunsets 
In urban areas, where green space is limited, creating an edible oasis on the rooftop can be the perfect place to enjoy a sunset toast after a long summer day. While not all roofs can structurally sustain the raised beds of a full-on vegetable garden, potted herbs like basil, lavender, rosemary, oregano and thyme not only smell good, they might be the perfect garnish for aperitivo hour.
Swimming Pool 
One of the most sought after amenities for summer home rentals near the coast, a nice pool with great outdoor furniture can fetch an additional $10K a month on the Jersey Shore, says Miller. Because pools are not that common, properties that come with a place to swim in the backyard are unique, especially on days when the Atlantic Ocean has rough surf. Miller says guests get excited about Gunite pools which are considered high-end. (Swimming pools — are they worth it?)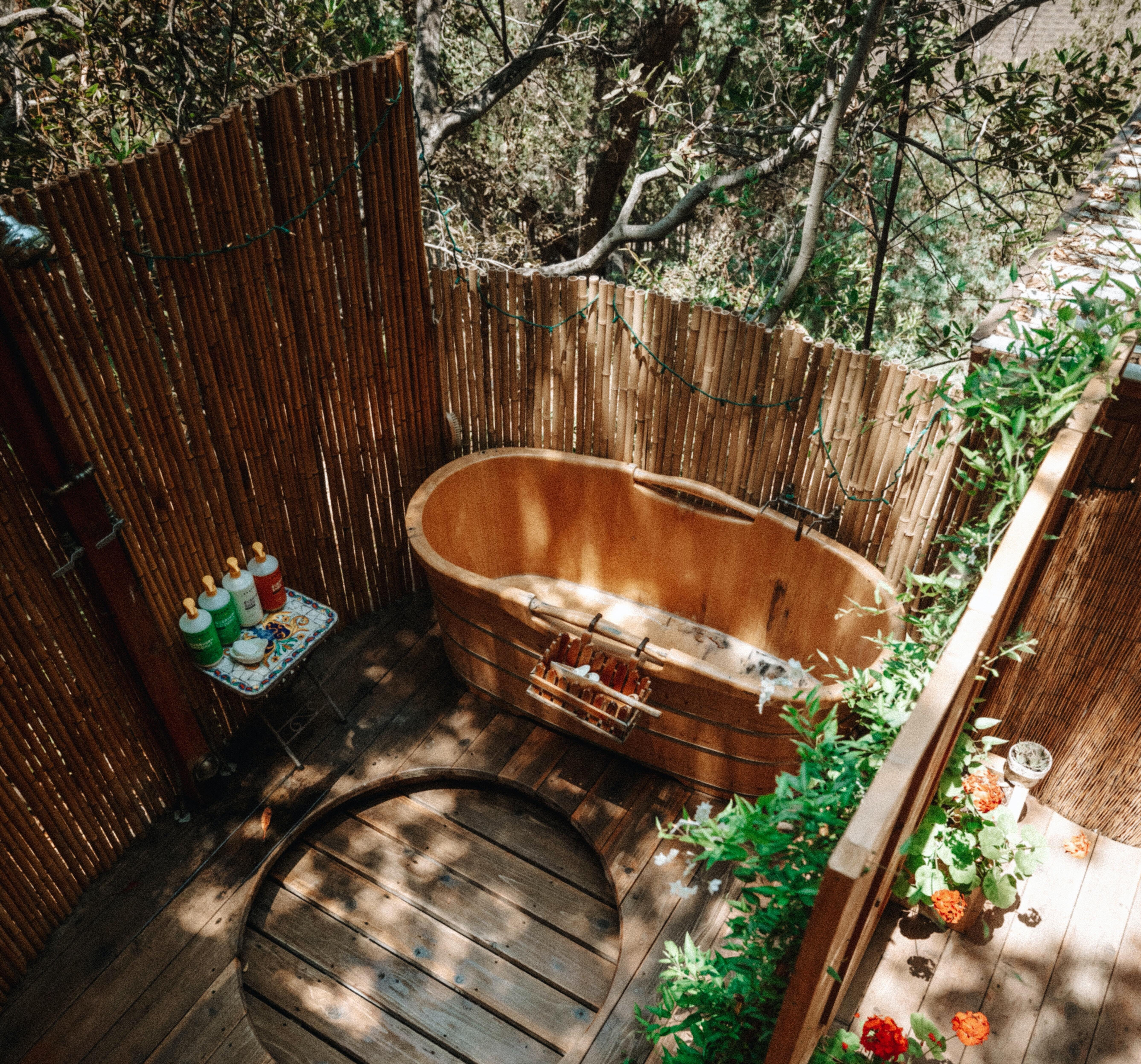 Outdoor Shower 
Choose a spot with ample sunlight and change up your daily routine with a refreshing outdoor soak. An affordable amenity with true summer appeal, outdoor showers got a boost in popularity during the pandemic. Make sure the shower head (freestanding or wall-mounted), valves and pipe are weatherized and check to see there's enough drainage. Shrubs or fencing provide helpful privacy, if an enclosure is desired. Excellent for showering off, outdoor showers can be useful for shampooing pets, too.
"The shower and the kitchen are a great pair because both of them require smart space planning in terms of making sure things are where they should be. It's great to have an outdoor shower but you don't want to have it in a place you have to walk through to get to the grill if you're hosting. And of course you wouldn't start planning that way, but that's something I've seen as a design professional," Keiter says. "As far as the aesthetics go, what I'm seeing is that people are getting the fixtures that they want, and then where they're having fun with are with the finishes on the floor and the enclosure. There is so much you can do, using the same thing you have as a patio for the floor in the shower, using the fencing around your deck or a variation on that to enclose the shower. And then you can grow vines on that and it helps with the privacy."
Pergola 
These days, pergolas come in all materials, wood, plastic, trellised and roofed, providing instant shade and the chance to turn a summer vine of wisteria or make the wandering branches of a lemon tree look like the image of luxury. Easily built or prefabricated, a pergola is an ancient touch that makes dining or lounging outdoors a more pleasant experience.